When I was 18, my mom called me while I was away at college and told me she was sitting in a tattoo parlor, about to get a tattoo, and one of the girls she was with cancelled. She wanted to know if I wanted to get one, too. So I drove down and got a cute little tattoo of the silhouette of a fairy with these pretty, intricate butterfly wings sitting on a crescent moon. She had her hands on her knees, so there was a very small space between her body and her arm. There were a few stars around it. It was cute, and I loved it.
A fifteen years later, you can't really tell what it is. When I explain it, it becomes obvious. But the ink that was used back then tended to spread the older it got, so small spaces would fill in. So you could no longer distinguish between her body and her arm.
For a few years, I'd been thinking of trying to get it covered up. August this year, I finally did it. They did a brilliant job, you can't tell there is a tattoo under this one: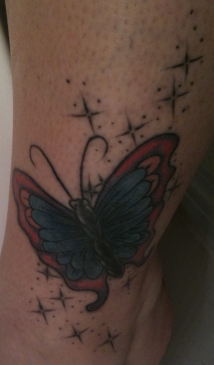 The butterfly has pretty sparkles around it because it didn't completely cover up all of the stars in the original, so the tattoo artist had to improvise. I think it's gorgeous.
After I got my coverup done, I thought getting a paw print would be cute... namely
my
dog's paw print. I figured it would mean something special to me, and paw prints are always "in style" if you will. So I tried a couple of times and finally got a decent print from Akira. I took it back to the tattoo parlor tonight and got my second tattoo of the year:

About four years ago, I got a tattoo on my back, and here's an old, not very good picture of it. The tattoo looks cute, this picture, not so much: