It's been quite a while since I've created a new thread on the thf boards and even longer since I've done a mathy post, but today I decided to try something new out and solo some dreamlands dynamis mobs. After doing my homework to find statue locations and proc conditions I headed out to valkurm and entered with subjob unrestricted just to mess around. I chose to do the "ws proc" line so once I had my TE's down I started farming, and during the goobbue period I was alternating between various ws just for the **** of it when I began to notice something unexpected. My eviscerations were doing pretty standard but to my surprise my dancing edges were kicking some serious *** out there (I have my skadi's cuirie in storage and was using the menue to dancing edge with no gear swaps). We've been telling people that evisceration >>> dancing edge no matter where you are because of our crit job trait bonus and gear such as lokis and etc; stating that it completely outmatched the 40% charisma secondary mod, but I wasn't seeing this in practice. Curious about this I loaded up Kparser and recreated a dancing edge gear swap and collected some data. The results are below

NOTES:
In order to keep this sample as pure as possible I removed my ziskas and added my raiders boomerang, and weaponskilled at 50% or higher so that none of my weaponskills would deliver a finishing blow and get their swings cut short. In order to do this I was juggling two mobs at once most of the time, and one of my target swaps failed and I did finish off a mob at ~~ 30% with evisceration by mistake once, so I will be omitting that weaponskill from my analysis. All mobs were Nightmare Goobbues, and I paid close attention to keep food up 100% of the time (I was eating red curry buns and I consumed a second food within 10 seconds of my original wearing off). I never used sneak attack or assassin's charge at any point
I'm also going to post my weaponskill set with relevant stats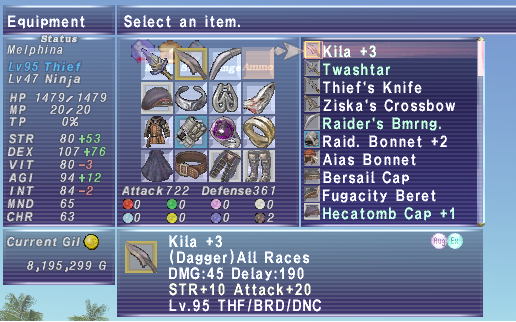 722 attack, 183 dexterity, 133 strength, 63 charisma. Also while it's not visible my hecatomb subligar +1 is augmented with critical hit rate + 3% and you're all familiar with Loki's Khaftan by now so the crits get a 13% damage boost via lokis + trait.
I used this weaponskill set universally between dancing edge and evisceration. There were no alterations for either weaponskill.
------------------------
Time for Analysis
----------------------
Basic Melee Information
My accuracy was capped at 95%, my crit rate was 28.5% which is 0.5 off from the expected 29% (20% + 5% (merits) + 4% (af3 +2 pants) == 29%). My weapons were Twashtar (lvl 85) and Flame kila +3 so average base D is 45 + fSTR which caps at 14. I have a feeling my strength was capped or **** close, so average base D is probably around 57-59. My average melee damage was 101 and my average crit was 169.5 which supports this. My average pDIF appears to be approximately 1.75-1.8 which is about expected since these mobs have the same stats they did at lvl 75, and my melee attack was 659.
Dancing Edge
Out of 23 weaponskills my low was 1,255, high was 2166, average was 1707.
Evisceration
Out of 21 weaponskills my low was 1145, my high was 1,950, and my average was 1615 (34,818 - 897 == 33921; and 33921/21 == 1615. This removes the evisceration that got a killing blow from the equation)
On average dancing edge was 100 points of damage stronger than evisceration

---------------------
Mathy McMathy Mathpants Analysis
This may or may not hold true for mobs with higher defense values (voidwatch), but if your pDIF is remotely positive (as it should be outside abyssea or voidwatch) it looks like dancing edge is STILL just as powerful as evisceration. We underestimated 20 levels worth of charisma gains. Further thoughts below
At 75 my blau dolch was D 33 (ftr cap 12), my dex was 87, chr was 47, my ws set had about 51 dex and 8 chr, so
the charisma mod increased my base D by approximately 20% at lvl 75
, raising it from approximately 80 D to 103 D. That was why dancing edge matched up with evisceration so well. My lvl 95 stats are weapon D 45,(fSTR cap 14), 107 base dex, 63 chr, + 86 dex and + 0 chr (gear). My charisma went up by 16 since lvl 75 which is a slightly higher point per level increase(47/75 == 0.626 points of chr per level, whereas 63/95 == 0.663 points of chr per level).
Charisma still increases base weapon D by approximately 20% at lvl 95... the exact same as it did 20 levels ago
, boosting base D from 104 to 127. The fundamental differences between these two weaponskills are almost identical to their lvl 75 counterpart relationships. Its worth noting that the general rule of thumb mages follow regarding the magic attack bonus formula of 2 int >> 1 Mab >>> 1 Int has also remained consistently accurate at level 95 (higher spell base D is a large reason why).
Without RR/GH/SS atmas evisceration isn't as solidly ahead of DE outside of abyssea as we have been saying for the past half a year. Part of this is because we can raise our attack to more profound average pDIF levels over the older mob sets than we used, and an equal part of it is because despite the job trait bonuses
evisceration is severely limited by its critical hit rate
outside of abyssea. My heca subligar is augmented with +3 crit hit rate, so I'm still stuck at 28% crit hit rate without my atmas. Secondary mods at 95 look like this
My current Dancing Edge Base D breakdown
floor (floor(183 x 0.3) + (63 x 0.4) x 0.85) == 68
45 (D) + 14 (fStr) 68 (wsc) ==
127 base D
My current Evisceration Base D Breakdown
floor (floor(183 x 0.3) + x 0.85) == 45
45 (D)+ 14 (fStr) + 45 (wsc) ==
104 base D
Now considering that my average pDIF is solidly up there even with /nin sub at approximately 1.75 average pDIF
Average Dancing Edge damage per swing at 1.75 pDIF
127 x 1.75 ==
222 damage per hit
Average NON crit Evisceration sweing at 1.75 pDIF
104 x 1.75 ==
182 damage per hit
Average Eviceration Critical at 1.75 pDIF with trait + Lokis bonus applied
104 x 2.75 x 1.13 ==
323 damage per critical
DE averages about 40 damage/swing more per non crit, whereas evisc averages about 100 damage higher per crit/swing, however evisceration's critical hit rate is stuck at 28% making it weaker than Dancing Edge's overall performance.
----------------------------------------------
Conclusion
Dancing Edge has retained the same relative strength to evisceration as it had outside abyssea at 75 over the past 20 levels in the same way the magic attack gearing general rule of thumb (2 int > 1 MaB > 1 Int) is also still true at 95. Abyssea
BROKE
evisceration with a symbism between a lot more crits at a lot higher strength each. However with the standard crit rate outside abyssea and a 1.13 job trait + Loki's bonus evisceration doesn't receive nearly as much leverage over DE's charisma mod as we gave it credit for. Dancing Edge is still very much a contender outside abyssea. If you don't believe me I invite you to try it out for yourself and see. Run your own parses and I'll let you be the judge
----------------------------------
Final Gear Note -- Rancor Collar and Skadi's Cuirie + Airy Ring --
My tonberry hate isn't high enough to cap out rancor collars effects, as such I've been using love torque/agagysea collar. However even if I did have its effects fully unlocked I'm confident nothing would have changed. To use the rancor collar I would be giving up the love torque, losing 7 attack and 5 dex. 5% crit rate still takes the lead, but if I am going to consider this piece I also have to consider
another
potential gear swap I wasn't using... my skadi's cuirie. My samples were done with neither my cuirie NOR a rancor collar, and skadi's cuirie is a stronger DE piece than Loki's kaftan is. Furthermore I don't own an airy ring anymore but that's yet another feather in Dancing Edge's cap. If I was to compare DE with skadi's + love torque + airy's ring versus Evisc with Lokis + rancor I have no doubt DE would still win. This also ignores the dexterity bonus love torque benefits sneak attack with, and while all my weaponskills were solo we DO stack them quite often (more so now than ever thanks to bully). Rancor collar still benefits SA evisc more but its just another factor that affects the overall relationship between the two weaponskills.
TL;DR version
: Nothing has changed. Dancing Edge is just as strong relative to evisceration outside abyseea now as it was at lvl 75. So long as your average pDIF isn't in the dumpster (which it shouldn't be if you're using a multi hit weaponskill... ManStab/Shark Bite etc still hold a place on massive defense HNM) evisceration still doesn't measure up to it without the power of atma.
Edited, Nov 18th 2011 6:54pm by Melphina