I've decided to throw this together to discuss some general concepts for Gladiators in XIV who have ambitions towards tanking. This information was compiled during the open beta with a Rank 12 Gladiator using mostly starter gear. The purpose is not to tell you how to play your character or how to tank, but to illuminate some of the areas where people seem to be having difficulty in adjusting from an XI style of tanking to the different approach to tanking in XIV. In order for this information to be fully applicable to you, you must be at least Rank 10 Gladiator with a weapon of your choosing and a shield.
Tanking 101 - A Primer
A tank spends most of their time doing their best to generate enmity on any battlefield threat that might otherwise go after other members of the party. In cases where there are multiple tanks present (ie. larger groups), it's important to sort out who is responsible for what. In addition to this, a tank should make appropriate use of their defensive abilities to reduce the amount of damage they take in order to reduce strain on their healers' resources and help to ensure a win for themselves and the rest of their group.
Tanking successfully frequently requires a higher degree of situational awareness than other party roles. If there's something nearby that wants to eat your party, you need to know where it is, what it is doing, and what you can do to make sure it focuses its attention on you.
The standard rule of thumb in most MMOs when it comes to who is responsible for what is this:
1) If the healer is only healing and still pulls threat and dies, it's the tank's fault.
2) If the tank is properly geared and does everything they could with their defensive abilities and still dies, it's the healer's fault.
3) If the damage classes pull threat and die, it's their own fault.
Beginner Gladiator Abilities:
By the time you reach rank 10, you will have access to the following Gladiator abilities:
Light Slash
(1) - Attack with your sword, dealing slashing damage.
Light Stab
(1) - Attack with your sword, dealing piercing damage.
Rampart
(4) - Fight to protect yourself, increasing defense and magical defense.
Provoke
(10) - Gesture threateningly, increasing enmity and temporarily focusing the target's attacks on you.
In addition, you will have access to the following weapon skills:
Red Lotus
(2) - Invoke the power of flame and strike, dealing fire damage.
Circle Slash
(6) - Spin your weapon fiercely, dealing damage to nearby enemies.
Phalanx
(8) - Strike from behind the safety of your shield, dealing slashing damage and increasing enmity. Can only be executed following a block.
Finally, when you equip a shield you will gain the ability to use Guard, a rank 1 ability with no TP/mana cost and no cooldown. Using Guard causes you to raise your shield, dramatically increasing your block rate. Note that your shield will only remain raised for approximately 10 seconds, after which time it will fall and you will have to use Guard again to raise it.
Tanking Stats
Currently in the open beta, people are having a hard time determining what (if any) spells are worth equipping on a tanking Gladiator to increase survivability in groups. In fact, everything is still so new (and subject to change) that I'm going to keep this very simple. Basic stats for a pure Gladiator are Strength (damage output), Vitality (health) and Dexterity (accuracy and evasion). Whether or not you choose to put points into any of the other stats (Intelligence, Piety, Mind) is up to you and that decision should be made based on what it is you are trying to accomplish. Because we can reallocate the attribute points we spend and put them elsewhere, there's lots of room for experimentation in the months/years to come.
The Provoke Issue
Confusion over this is actually what prompted me to write this mini guide. In Final Fantasy XI, Provoke was a mainstay enmity tool for years and years. It was an ability on a relatively short cooldown that generated substantial enmity and for a time was considered a mandatory tanking ability.
As a result, people transitioning to Final Fantasy XIV from FFXI saw Provoke as a Gladiator ability and assumed it served the same purpose and should be used in the same way as it was in XI. This is gradually being proven as a logical fallacy. Take note of the following considerations:
1) All combat classes in FFXIV have a stamina gauge. At the beginning of a battle, this gauge starts out completely full. Every ability you have consumes a certain amount of stamina when you use it. Your stamina bar is auto-replenishing, meaning that if it is not full, it immediately starts filling up again until it is. If you have less stamina remaining in your stamina bar than is required by the ability you have selected for use next, that ability will not activate until your stamina bar has recharged to contain the amount required by the ability. The rate at which your stamina bar refills is a function of your weapon (class) type. The stamina gauge serves as a means of pacing combat and adding a strategic element to determining what ability you use, when, and why.
2) Not all abilities are intended to be used as soon as possible when they're off cooldown. Abilities like Rampart, for example, are intended to be used sparingly. It's better to have Rampart available in case of an emergency than to have used it when you didn't really need to and then find it unavailable when it could have made the difference between success and failure.
3) Earning skill points with your weapon is the means by which you increase your class rank. For this reason, whenever possible you want to take advantage of every possible opportunity to earn skill points. Whether or not you get skill points from any particular action is largely a random function. There is never any guarantee that a particular action will earn skill points. This means that statistically speaking, the more abilities you use within a certain span of time, the higher your chances at earning skill points.
Note:
Contrary to previously popular belief, the number of skill points you earn has absolutely nothing to do with how much damage you did. Skill points are a function of your class rank relative to the rank of the monster you are fighting with a certain random element for variance.[/b]
So if we put all of these things together with the previously mentioned goals of tanking, we can come up with a very basic umbrella strategy that can be summarized as follows:
A skilled and successful Gladiator tank will make appropriate use of their defensive abilities while generating as much enmity as they possibly can. They will adapt to changing situations on the battlefield in order to keep a given situation under control, all the while making best use of their opportunities to earn skill points, thus progressing their class rank.
With that in mind, take a look at the stamina cost for three basic Gladiator abilities: Provoke, Light Slash and Phalanx: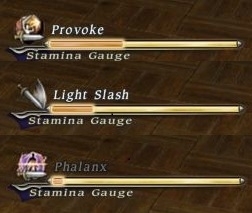 As we can clearly see, Provoke uses approximately 40% of your maximum stamina. Light Slash uses just slightly more than half that amount, and Phalanx uses an almost trivial amount of stamina.
In addition to that small amount of stamina, Phalanx also requires 250TP to use, and it can only be used after you block an attack. (Partial blocks count as having blocked an attack when determining whether or not you can use Phalanx.) Based on some quick and simple testing, I determined that I could receive 300-600TP from a single Light Slash. In other words, one Light Slash earns enough TP to be able to use Phalanx once and possibly twice. If you are diligent about keeping Guard up, you will see quite a large number of blocks of the span of a given fight. The block rate with Guard active is bordering on broken it's so good. This means that as long as you have the TP, you'll have a great many opportunities to use Phalanx.
So now let's take a look at the big picture. I want to compare the benefits of using Provoke as a general use enmity builder to the benefits of keeping Provoke in reserve and using other abilities in its place.
Provoke:
- Generates
zero TP.
- Provides one chance for a weapon skill increase each time it is used.
- Generates an undisclosed amount of enmity.
- Forces the target to attack the Gladiator for a short time.
- 20 second cooldown.
Light Slash
- Generates 300-600TP with each successful hit.
- Each successful hit provides one opportunity for a weapon skill increase.
- Uses almost half the stamina of Provoke.
- Generates a small amount of enmity from damage.
- No cooldown.
Phalanx
- Requires a tiny amount of stamina and only 250TP.
- Increases enmity and can do a significant amount of damage.
- Each successful hit provides one opportunity for a weapon skill increase.
- No cooldown.
So the question we have to ask when trying to determine whether or not it's better to use Provoke whenever it's off cooldown or to leave it alone and do other things is whether or not we can achieve the same result in terms of enmity with those other things in the same amount of time. The answer is that yes we can. Consider the following examples, all chosen to illustrate different scenarios a Gladiator could consider that would all consume roughly the same amount of stamina:
(Note: because we have no concrete comparison of enmity generated by Provoke vs. Phalanx right now, I'm going to assume for the sake of these examples that they are roughly equal, or that Phalanx produces slightly less enmity than Provoke.)
Ex. 1
Scenario: Guard is up, Gladiator uses Provoke.
Summary: Gladiator has produced a reasonable amount of enmity and has created one opportunity for a weapon skillup.
Ex. 2
Scenario: Guard is up, Light Slash hits and returns 300 TP, mob hits, Gladiator blocks, Gladiator uses Phalanx and hits.
Summary: Gladiator has used two attacks (two chances for skillup) and has generated a reasonable amount of enmity.
Ex. 3
Scenario: Guard is up, Light Slash hits and returns 600 TP, mob hits, Gladiator blocks, Gladiator uses Phalanx, mob hits, Gladiator blocks again, Gladiator uses Phalanx again.
Summary: Gladiator has used three attacks (thre chances for skillup) and has generated a substantial amount of enmity from having used Phalanx twice in fairly rapid succession.
Ex. 4
Scenario: Guard is up, Light Slash misses, Light Slash misses again, mob loses interest and runs after healer.
Summary: Gladiator has accomplished nothing. No chances for weapon skillup, no enmity generated. Note, however, that in this example the Gladiator still has access to Provoke because they didn't use it at the start of the fight as a generic enmity generator.
Ex. 5
Scenario: Gladiator uses Provoke. Thaumaturge unleashes hell and pulls threat.
Summary: Gladiator created one opportunity for a weapon skillup and generated a reasonable amount of enmity. Unfortunately, it wasn't enough to contain the mob. Because Provoke is on cooldown, Gladiator has no option besides chasing after the mob and trying to peel it off using only Light Slash/Stab and TP moves, and because the mob is not attacking the Gladiator, the Gladiator cannot block. Because the Gladiator cannot block, they cannot use Phalanx. Gladiator has screwed the pooch.
As you can see, based on total stamina consumed, only in a worst case scenario is Light Slash/Stab + Phalanx a sub-par alternative to using Provoke. In most cases, the Gladiator will generate a comparable amount of threat using attack abilities as compared to Provoke, the Gladiator will increase their chances of gaining sill points, and will have more options remaining to correct a situation gone wrong in the event that a damage class over-nukes or the Gladiator struggles to hit the target.
In Closing
Depending on the response to this guide and my interest in the game entering official service, it may or may not be updated to reflect newly acquired knowledge, changes to the game, or advanced concepts/tactics. I hope it was helpful.
Edited, Sep 15th 2010 6:54pm by Aurelius