lolgaxe wrote:
TheBarrister wrote:
I have no idea where you got yours.
Tom Brevoort, Marvel Executive VP talking company policy.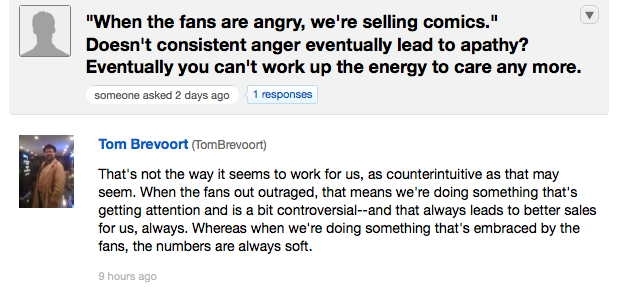 Bad word of mouth rarely hurts sales, whereas lack of interest always does. And happy fans are going to buy because they're happy. They have no reason not to, so expending energy isn't your main concern. It's good to
keep them happy
, sure, but your main demographic is to convert apathetic individuals. An angry customer is still someone who is thinking about your product, so at the most minimum level you've still got their attention, at which point you can draw them in. People love to hate. People rarely rage quit, no matter how often you hear about anger at a game. People quit games because they're no longer interesting or something more interesting comes along. It's a weird psychological twitch people have. Theory is nice and all, but I'll take the word of a businessman over it any time. Theory vs parser, yannow?
Of course that's not to say make the worst game imaginable and a commercial of someone taking a crap is a good choice, but pretending that the happy customer is the most important target for marketing is, in practice, not nearly that worthwhile an endeavor.
It appears this social media quote is non-sequitur (e.g., "that seems to always work out for us"...Really? Is making "fans" angry the cause of higher sales, or is it just because people will buy your product no matter what, in which case you're not really maximizing profits by potentially ******* off
some
people, and therefore you aren't getting as many sales as you could be? Are sales lower when you make everyone happy? Did you test that?) Also, from a brief lookup online, this guy isn't exactly the Da Vinci of marketing. The first five links of "Tom Breevort poor marketing" show that he says whatever appears to be convenient at the time (such as his quotes that strong DC Comics sales are better for Marvel...even if they are, who would say that publicly about their top competitor?)
This is consistent with the top level mind in graduate marketing thought, Kotler. There is even a question on one of the tests. The answer is false. The question is "Good service recovery can turn angry customers into loyal customers and can even win more customer purchasing and loyalty than if no problem had occured in the first place." (Question 125, Answer False, referring to page 8 of Chatper 8 in Principles of Marketing).
I'll let you consider the source for what you want to believe the cardinal rule is on marketing. The foremost thought leader on training marketing executives, or a comic book reader that works at Marvel and has held positions their ranging from vp of publishing to marketing.