Gildrein wrote:
Whether it's frantically scrambling around to hunt down eggs that have been hidden, boiling up an egg-stremely delicious dinner, or collecting the various jeweled eggs that can be found in Vana'diel to put on display in your Mog House, there are a myriad of possibilities for using this magical object. This year we will be adopting the age-old tradition of egg decoration to celebrate and welcome the season of spring in Vana'diel.
Using an egg as your canvas, put your artistic skills to the test and create a FINAL FANTASY XI themed artwork. The rare and coveted Chocobo Beret will be awarded to a basketful of egg-ceptional eggs!
Event Period
Wednesday, March 15, 2013 4:00 a.m. to Monday, April 1, 2013 1:01 a.m. (PDT)
How to Enter
Take a picture of your decorated egg and post it as a reply to the
entry thread
.
*One entry per person. If multiple entries are posted, only the first one submitted will be accepted.
Entry Format
Picture Resolution: No larger than 1024x1024 pixels.
Picture Format: JPG or PNG
*The entry must be an original work that was created specifically for this contest.
*A picture may not be accepted if its resolution or aspect ratio deviates greatly from the above.
*Please note that some image hosting websites such as Flickr will delete images when an account is inactive for a certain amount of time, so make sure to verify this when choosing a site to host your entry image.

Please include the following in your forum post:
• Entry title (within 25 characters)
• Comment about your entry (up to 50 characters)
*Please note that the above will be posted publicly.
The FFXI Development and Operations Team will select 10 of the best entries based on overall creativity on or around Friday, April 12, 2013 and announce the winners on the forums.
How to empty an egg:
1. Put cellophane tape on the top and bottom of the egg.
2. With a drill or other tool, poke a hole in the top portion where tape has been placed for both ends, and drain out the liquid.
3. By blowing air through one of the holes, the rest of the liquid will come out of the other end.
4. Make sure to have a plate available as the liquid might come out quickly.
5. Rinse out the egg with water and let it dry.
6. Start to decorate your egg!
Prizes:
• 10 winners will each receive a Chocobo Beret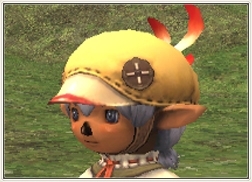 • All participants will receive an egg-related in-game item.
*Prizes will be sent to the character associated with the Square Enix Account that entered.
*Winners will be selected globally, and there is a chance that entries from North America will not be chosen.
*Prizes are all in-game items and have no monetary value.
Contest Summary:
1. ENTRY REQUIREMENTS; ELIGIBILITY
1. This is an Internet-only contest.
2. Entrant (or if a Minor, entrant's parent or legal guardian) must agree to these official rules.
3. Entrant must be a legal resident of the U.S. or Canada (excluding Quebec) and must be 13 years old or older. Only entries from valid North American Square Enix Accounts will be accepted.
4. Must possess an official FFXI Forum Account to submit entry. (This requires entrants to have an active FFXI account and Square Enix account)
5. Go to
http://forum.square-enix.com/ffxi/threads/31046
for official entry.
6. Post a picture of the egg that you decorated and include a short comment about it as a reply to the
entry thread
.
Winners will be selected and announced on the official FFXI Forum page and on PlayOnline on or about April 12, 2013.
8. Limit one (1) entry (image) per contestant.
9. Contest starts on March 15, 2013 (4:00am Pacific Daylight Time) and ends on April 1, 2013 (1:01am Pacific Daylight Time); all comments/images must be posted by April 1, 2013 (1:01am Pacific Daylight Time).
* Normal forum rules apply to all posts within the contest thread.
* Square Enix reserves the right to judge whether or not material is appropriate for public display. Inappropriate submissions will be moderated. If entries fall under any of the below categories, it will result in a disqualification and the post will be deleted by a moderator:

-Any posts containing obscenity, vulgarity, discrimination, or any other offensive subject matter
-Infringements upon copyright/intellectual property, personal credit, privacy, etc.
-Counter to public order and/or morals
-Submissions with content judged to be grossly deviant from the established theme
2. SELECTION
1. Winners will be selected by the FFXI Development and Operations Team based on creativity.
2. Winners will be announced on or about April 12, 2013 on the official FFXI Forum page and on PlayOnline. The winners will be contacted by a support agent who will confirm their character information for prize delivery.
3. A total of ten (10) winners will be selected globally.
*There is a possibility that no winners will be chosen from the North America region.
3. PRIZES
1. Ten winners will each receive a Chocobo Beret (in-game item that has no monetary value)
2. All participants will receive an egg-related in-game item (in-game item that has no monetary value)
http://forum.square-enix.com/ffxi/threads/31045
Edited, Mar 15th 2013 7:27am by Szabo